Mental Motorsport - Race car driver coaching, training, and support
Welcome to Mental Motorsport, a motorsport consultancy that specializes in race driver coaching, training, and support. Mental Motorsport combines the technical aspect of racing with the mental aspect of racing. This unique combination creates an excellent foundation for supporting race car drivers which allows them to reach their maximum racing performance capabilities. Mental Motorsport offers services in the form of appealing support-programs for individual race car drivers and for race teams. Our services can be used during race weekends, test days, or in the workshop.
Our services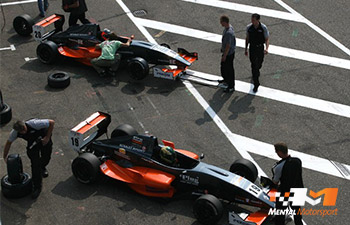 Our services and area of expertise, can be divided into 5 domains with which we support and guide racing drivers. Each domain is covered in a matching training program. These 5 training programs are:
1. Race driver education and drive style training.
2. Race driver mental coaching and mental support (sport psychology).
3. Professional formula-car race-simulator.
4. Race car data-analysis support.
5. Racing engineering and race car setup support.
You can consult us for following a single program, or for following a combination of several programs. Each program is elaborated below.
1. Race driver education and drive style training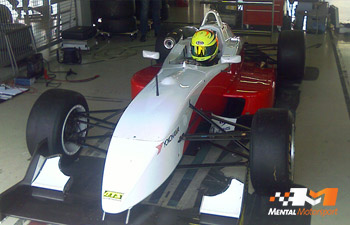 To become a successful racing driver, it is important that the driver understands the concepts of racing, and is educated in the ins-and-outs of racing. The "race driver education and drive style training" program is aimed at improving the drivers' race car knowledge, race track knowledge, and allows for the driver to improve race driving techniques.
For beginning race car drivers such as drivers coming from karting championships (Formula A, KF1, KF2, rotax, etc), the education program covers topics such as: technical mechanical knowledge, physics theory, vehicle dynamics, and aerodynamics. Furthermore, this program provides an introduction in basic racing driving techniques. For the more advanced drivers, this program may teach additional driving techniques as addition to their current driving styles and racing techniques.
For this program, we assess the current knowledge and skills of the driver with an intake interview. After assessment and agreement with the driver, a coach will be present at the circuit during official test days or race weekends. Most of the training and education will take place in between racing sessions, and at the end of the day (after all the sessions have finished). All training and education will be in congruence with the race team, for which the driver is currently racing. In this program, drivers may also receive several documents and assignments that they can use to get a better understanding of their racecar and to improve their driving style.
After each race weekend or test-day, the coach and driver will evaluate the effectiveness, and the drivers' satisfaction with the program. Once the driver has reached his/her goals, the coach and driver decide together whether to continue or terminate the collaboration.
2. Race driver coaching & mental support, based on principles of sport psychology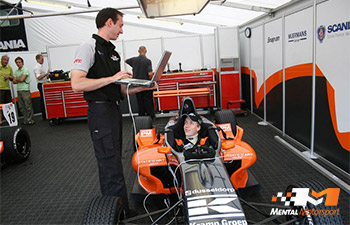 Motorsport is mostly seen as a mechanical and technological sport. However, an increasing number of race teams and racing drivers realize that the racing driver is one of the most important factors in motorsports. To win races, racing drivers need high motivation, prolonged concentration, low stress levels, high physical fitness, high confidence, and much more. Keeping all these factors at the most optimum level, requires a lot of work and dedication. Therefore, the racing driver needs to receive proper coaching and support, to be able to perform at his/her best.
Race driver coaching and mental support, in the form of sport psychology, is the core business of what we do. The aim of the 'race driver coaching and mental support' program is to help race car drivers to be able to reach their maximum performance. This means working on improving; concentration, attention, motivation, confidence, stress management, mental preparation, thought management, and dealing with daily life struggles.
After the inquiry for this program, we assess the drivers' personality, their strengths and weaknesses, and their learning styles, using questionnaires and an intake interview. Based on the information gathered in the intake we develop, in conjunction with the race driver, personalized coaching plans with fitting goals and action plans. Depending on the drivers' needs, the coaching can be based on practical skills or mental skills. In our coaching, we use advanced techniques from sport psychology such as visualization and cognitive-behavioral therapy to get maximum results. We perform the coaching sessions during race weekends, test-days, or in the workshop. We do this for race drivers of any age and experience level. The amount of sessions needed, depends on the progress the driver makes, and on mutual agreement between driver and coach which is discussed after each session.
3. Professional race simulator and support
A race simulator allows race car drivers to get familiar with a new circuit or to refresh the knowledge of an existing circuit. It also allows for race drivers to practice new racing skills and mental strategies, without having to go to a circuit. Furthermore, by using a race simulator, race drivers can get immediate feedback from a coach while he/she is driving. This feedback while the driver is racing, can massively increasing the learning curve of the driver. By having practiced newly learned skills and techniques in the simulator with the presence of a coach, it gives drivers more confidence and better preparation to execute their newly learned skills and techniques, when it matters on track.
Current technological development allowed us to create a race simulator that previously was only available for the top racing teams. The usage of the simulator can be part of the 'race driver education and drive style training' program, as well as the 'race driver coaching and mental support' program. Single use of the simulator is also possible. The use of the racing simulator will always be under the supervision and presence of a coach.
Upon arrival at our simulator, a pre-brief of 30 minutes will take place. The simulator sessions consists of driving laps in the simulator, interspersed with data-analysis with data coming from the simulator sessions, and hints and tips from the coach. After the simulator session is complete, the driver will get a 30 minute debrief and receives the logged data from the session (motoc file) to take home.
Our simulator is currently being developed and built, and is therefore not yet available for use. Please check back with us in the future for further details.
4. Race car data-analysis support.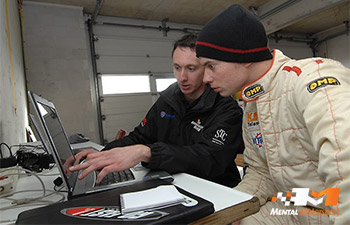 Data-logging allows race-teams and racing drivers to uncover what happened with the race car and the driver during a session. For the race driver, this information can provide insights into the current driving styles. With this information, the driver can learn new driving styles and techniques. However, translating logged data to specific race driving techniques requires technological and behavioral knowledge. Therefore, truly understanding and comprehending logged data can sometimes be a challenge, and is commonly misinterpreted.
We can assist racing drivers with reading and understanding logged data from the car, and show them what to focus on. Furthermore, we can also show racing drivers how to get the maximum amount of information out of limited amount of data-sensors.
Additionally, next to individual drivers, we can also support race teams how to communicate the information from the data log-systems (technical language) to understandable language (behavioral language) for the race driver, and thereby improving the communication between the race engineer and the race car driver.
5. Racing engineering and race car setup support.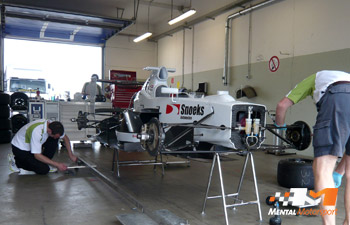 To win races, both the race car and the driver need to be in optimum condition. Race cars are complex machines which can be influenced in endless ways. Having an understanding of the mechanics and physics of the race car, and knowing how to optimize these factors, can drastically improve the chances of becoming successful and winning races.
We can support individual racing drivers and race teams with race car setup, and can recommend optimal spring rates, anti-roll bar rates, camber, caster, etc. Consequently, we inform you on optimal roll-centers, ride frequencies, load transfer distributions, roll gradients, etc., and show you how these features influence the on track behavior of the race car. Additionally we can assist with on track set-up and aligning of the race car. If needed, we can provide a basic car setup, from which you can start to improve. We can do this for both formula cars and touring cars.
Our Experience in Racing and Motorsport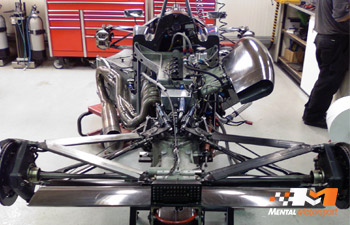 Mental Motorsport has almost a decade of experience in extended race driver coaching, racing engineering, and data analysis. We combine our motorsport experience with academic qualifications in psychology and mechanical engineering. We have provided coaching and engineering services in series such as: Formula 3, International Formula Master, Formula Renault 2.0, Formula Renault 1.6, Formula BMW, Formula Ford and ADAC Formula Masters. We have worked with experienced drivers as well as rookie drivers, coming from several different race classes.
How we work / Application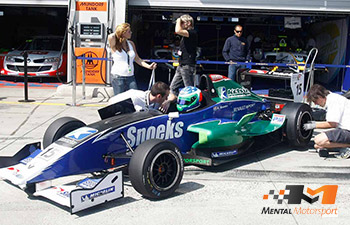 You can use our consulting services during test days or race weekends. To get maximum results, for coaching services we will visit you onsite, during race weekends, test days or in the workshop.
After your query for the use of our services, we will contact you to make an appointment to meet via skype or face-to-face. During our first meeting we will get acquainted and discuss your wishes, needs and expectations. After this, together we will plan future actions. Upon agreement we will start with the desired program. During the program, we continue to evaluate your progress and our collaboration in general.
After sessions are completed we will send you an invoice on a weekly basis. Note that the costs for traveling and accommodation will be factored into the invoice.